One way to know you've chosen the best dentist in the Merion and Narberth areas is to see what others are saying about your dentist's experience and reputations. At Main Line Center for Dental Excellence, we are proud to not only boast recommendations from our patients, but also recognition from a variety of local publications. These publications research all of the dentists in the region and select the best based on a set of criteria reviewed by a panel of dentist judges.
FEATURED IN…
PHILADELPHIA MAGAZINE
Philadelphia Magazine is one of the oldest and most trusted magazines of its kind, being first published in 1908. It provides the newsworthy coverage on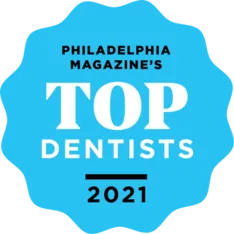 topics ranging from controversial political issues to sports and entertainment to community leaders and their families in Philadelphia and the surrounding counties. The magazine has been earned the National Magazine Award multiple times in various categories over the last forty years.
In turn, Philadelphia Magazine gives its own awards and Main Line Center For Dental Excellence dentists are proud to have received Top Dentist awards for four of our dentists on staff. Dr. Ernest J. Dellheim has held a private practice since 1977 and is a published author and an award-winner in the area of prosthodontics. Dr. Dellheim also is an attending dentist in the General Practice Residency Program at Temple University Dental School's Advanced Education in General Dentistry Program. And, Dr. David B. Block, a native of Delaware, has been practicing for 18 years and is an active member of Dental Life Network's Donated Dental Services Programs, which provides pro bono care to patients who would otherwise be unable to afford treatment. Dr. Getreu and Dr. Hauser were also recognized for Top Dentist in Philadelphia Magazine as well. Dr. Hauser is a member of the Center City Study Club and is also an active member of Dental Life Network's Donated Dental Services program.
SUBURBAN LIFE
Another regional magazine, Suburban Life, has also given Top Dentist awards to these three doctors plus the fourth and newest addition to the Main Line family, Dr. Sheena Hauser. Suburban Life is a series of monthly magazines covering Bucks, Montgomery, Chester and Delaware counties and reaches an upscale audience. The magazine researches and provides information on the best dentists in the Narberth and surrounding areas. Dr. Hauser was born and raised in Halifax, Nova Scotia. After graduating and completing a two-year General Practice Residency at the prestigious Carolinas Medical Center in Charlotte, North Carolina, she and her family have settled in the Penn Valley area and she has been in private practice for more than 10 years.
MAIN LINE TODAY
Main Line Today is another regional magazine that is the authority on the culture and lifestyle of Philadelphia's fabled Main Line and Western Suburbs. The magazine also included all four Main Line Center for Dental Excellence doctors in its Top Dentist category for the area. All of our dentists are experts and are active members of professional associations that help keep them in touch with the latest dentistry techniques that best serve the patients of Narberth and Merion areas.
You'll find detailed information about all of our doctors and specialists on our website. With our dentistry office conveniently located in Narberth, Penn., we serve patients throughout Narberth, Merion and the entire Main Line region. Contact us today to schedule an appointment with one of these award-winning dentists.